About Temagami
So, you're planning a Temagami canoe trip! Maybe you're looking to hike Temagami's more remote old growth forests, or planning to use Smoothwater as a home base for day trips. You've probably got questions about weather, location, parks, permits, canoe routes, bugs, fishing, logging, old growth pine forests and more. Well, we've got answers. Read on.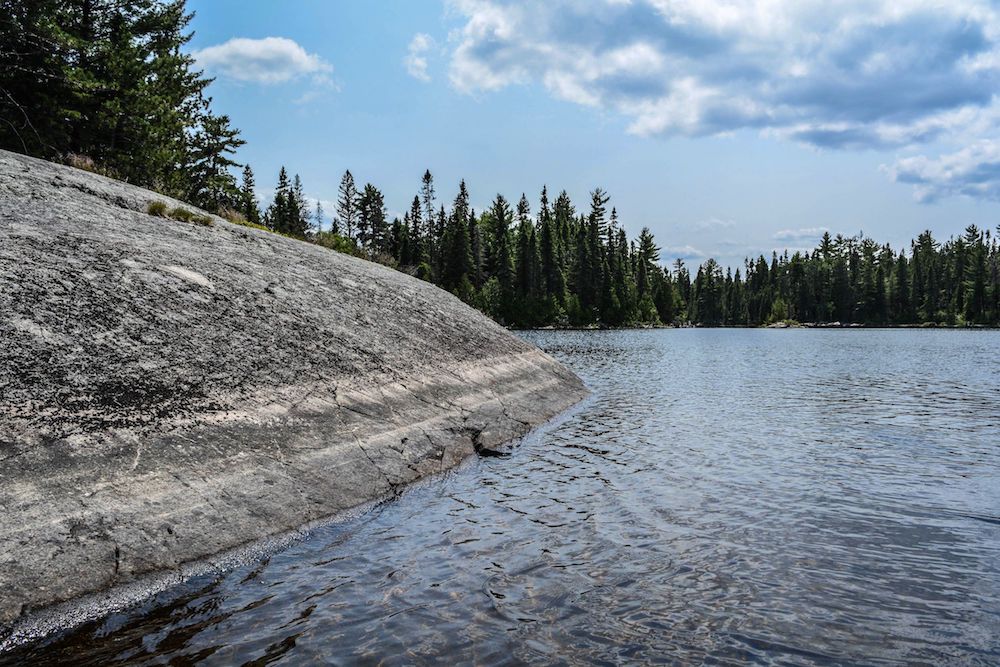 Temagami's defining characteristic is reflected in its name, from the Ojibwe "Teme-Augama", or "Dimii'aagamaa".
WHERE IS TEMAGAMI?
Located in northeastern Ontario, Canada, the town of Temagami, Lake Temagami and the region of Temagami fit together like nesting pots. Toronto is 440 km to the south. Ottawa, Canada's capital city, is 465 km to the southeast.
The town of Temagami is located on Highway 11, a 4.5 hour drive north of Toronto. Bus service to the town is provided by Ontario Northland. The closest airport is in North Bay, 100 km to the south.
Still searching? Okay, the Smoothwater Lodge is located at:
47 degrees, 10 minutes, 30 seconds North latitude
79 degrees, 44 minutes, 20 seconds West longitude
WHAT'S SO SPECIAL ABOUT TEMAGAMI?
Lots! Temagami is most famous for its majestic and rare stands of old growth red and white pine. These inspiring forests contain trees up to 350 years old.
You can paddle to either Maple Mountain or Ishpatina Ridge, Ontario's two highest points of land. Both have dramatic 360° vistas stretching to the very edge of Temagami's rugged backcountry.
Weaving through an impressive 720,000 hectares of forest, lakes and rivers is Temagami's 2,400 km (1,500 mile) canoe route system. This is the largest network in North America. These routes were established by the Teme-Augama Anishinabe (Deep Water People) hundreds of years ago…
Temagami has more registered archaeological sites than anywhere else in northern Ontario. You will encounter history with every paddle stroke or portage step, from Anishnabe pictographs to relics from the olden days of lumbering in Ontario.
WHERE ARE TEMAGAMI'S FAMOUS OLD GROWTH PINES?
The world's last large stands of old growth white and red pine grow in Temagami. The best known and most accessible of these include Obabika North, White Bear Forest, Temagami Island and Blueberry Lake. We can tell you how to get there, by canoeing, hiking, or snowshoeing.
WHAT ABOUT LOGGING?
Logging is a fact of life in northern Ontario, even in 'protected' areas like Algonquin Park. The good news is that logging practices are changing to better reflect ecological awareness and the values that recreationists hold dear. Still, much improvement is needed and all Ontarians have the responsibility to speak up about resource extraction practices they find unacceptable. In Temagami, canoe routes and trails used for hiking and skiing receive protection in the form of viewscapes, reserves and setbacks.
IS TEMAGAMI A PROVINCIAL PARK?
Most of the Temagami region is Crown land. However, there are seven Provincial Parks scattered across the Temagami landscape: Obabika River, Sturgeon River, Solace, Makobe-Grays, Finlayson Point, WJB Greenwood, and the 72,000 ha Lady Evelyn-Smoothwater Wilderness Park.
ARE THERE MOTORBOATS AND COTTAGES?
Several lakes near Highway 11 have cottages and motorboats, though few people find their presence obtrusive. If solitude is your goal, you'll want to explore Temagami's many remote backcountry routes.
WHAT'S THE BEST TIME OF YEAR FOR CANOEING?
Ice-out happens in late April and the lakes freeze-up again in late November, so you can paddle anytime in between. July and August are the most popular months, but spring and autumn are beautiful paddling seasons that few people experience.
WHEN ARE THE BUGS AT THEIR BEST?
Late May/early June is the ideal time to experience black flies. Mosquitoes are best admired mid to late June. Talk to us about bug shirts and repellant.
ARE CAMPFIRES ALLOWED?
Yes, though dry summer weather can result in government-ordered fire bans. During a fire ban, only stoves may be used for cooking.